Interactive 3D Projectionmapping for Toyota Aygo on IAA 2015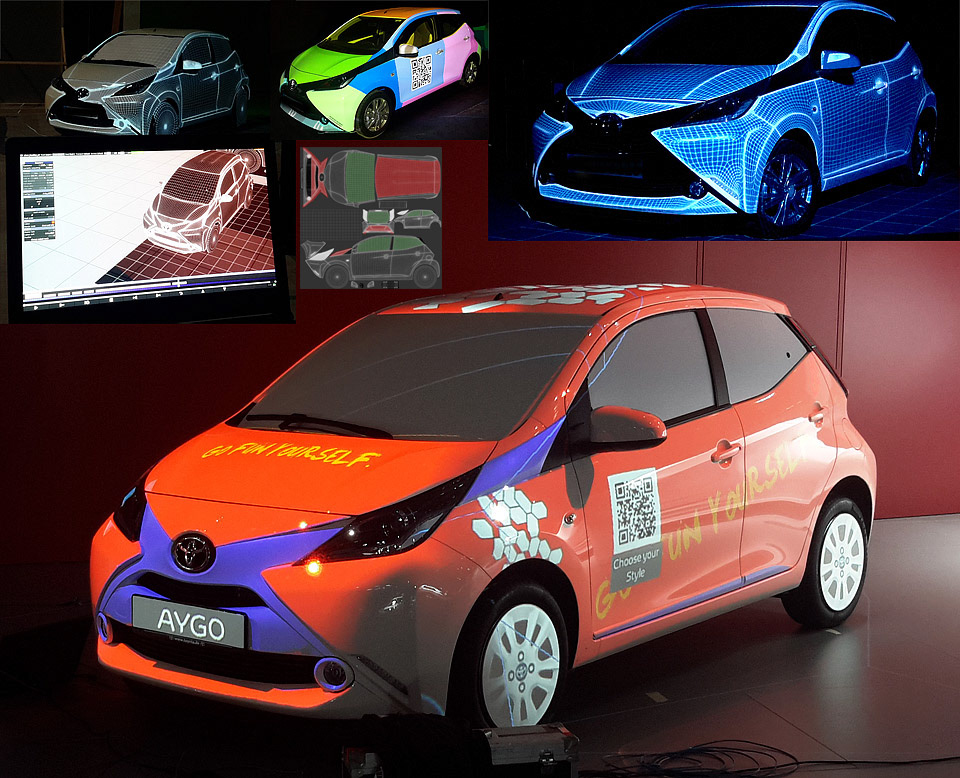 This is a photo of a Job in 2015. The car is white and the color comes from 2 projections (with 25.000 Ansi Lumen)...
In the last 2-3 month I worked (in blueBOX Studios Castrop Rauxel) on an Projectionmapping for Toyota Aygo (on IAA (Internationale Auto Ausstellung in Frankfurt).
It was my first projection mapping on an car and I need to learn the projection software, to calibrate and orientate the big projectors. Cleaning and optimizing the 3D Mesh for projectionmapping (it was an other way as creation a mesh for a car visualisation... The mesh is closed), creating a clean UV for animation. And making an animation with Aftereffects and the 2D-UV mapping I painted the storyboard and the Interfacelayout for the Ipad/smartphones too. I learned a lot and it was a hard time in a god team.
In the photo you can see the QR-code on the car. The visitors on the IAA can scan this code and change the color of the car, the color of different parts of the car, the wheels and much more life on stage on the real car, with their smart-phone or an Ipad on the stand.
We used a lot of soft and Hardware (D3 Mediaserver, Webserver, Adobe flash, Adobe Photoshop, Adobe Aftereffects, Maxon Cinema4d, autodesk 3ds max ....)